Architectural Parchment - Premium

15 - KAKI / Winter Persimmon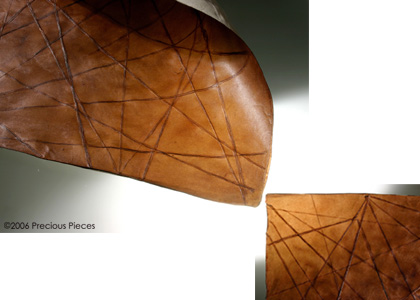 Small Sheet B (in stock) : 24" X 39" Medium Sheet B : 82" X 118"
Custom Large Sheet : up to 30 feet x 100 feet
Applied
Persimmon Tannin Juice (Kaki-shibu) on Hoshi

In Japan, astringent persimmons are used to make persimmon tannin juice, or kaki-shibu. It has been used for preventing propagation of bacteria and water resistant.
Persimmon tannin hardens the fiber of wood and paper, prevents corrosion, and makes them water resistant. It has been used to make Japanese paper, umbrellas, and wooden ware.


Order 24" X 39" sample sheet by Paypal (US$300.00)
Spec Sheet of this product available in PDF File.
Download Spec Sheet


Portfolio of

15 - KAKI / Winter Persimmon

Portfolio# :
#408, #409, #410


©2006-2009 Precious Pieces. All Rights Reserved.